March 19, 2023

Techbengal

0
Having a website for small businesses is essential in today's digital age. It's not just about having an online presence, but it's also about having a well-designed website that is informative, easy to navigate, and visually appealing. In this article, we will guide you through the necessary steps to build a winning website for your small business.
Why do You Need a Website?
A website serves as a virtual storefront for small businesses. It enables potential customers to find you online, learn more about your products or services, and make a purchase. Without a website, you miss a significant opportunity to grow your business.
A website also helps establish credibility and trust with potential customers, giving your business a professional image. Additionally, it can keep you competitive in your industry by allowing you to keep up with trends and meet customer needs.
How to Choose the Right Website Design in 2023
Choosing the right website design is critical to the success of your online presence. Keep in mind the overall look and feel of your brand when selecting a design. Your website should be consistent with your branding, logo, and color scheme.
There are various website design options available in 2023, from pre-made templates to custom designs. Pre-made templates may be cost-effective and convenient, but they lack originality and may not stand out among competitors. Custom designs, on the other hand, are tailored to your specific needs and unique to your business. However, custom designs can be more expensive than pre-made templates.
When choosing a website design, consider the following:
Look and Feel – Your website design should consistently reflect your branding and convey the feeling you want visitors to have when they visit your site. As per our experience, most small businesses often don't care about brand identity while building a website. But It's very important in today's era. So be serious about it.
Functionality – Consider what features and functionalities you need on your website. For instance, a restaurant may require an online reservation system, while an e-commerce store may require a shopping cart.
User Experience – Your website should be designed with users in mind, easy to navigate, and provide seamless experiences for visitors.
SEO-Readiness – Optimize your website design for search engines to ensure that your site ranks high in search results. The on-page SEO should be taken care of when building the website. Adding correct meta tags, SEO meta description, SEO Image ALT tags, and titles.
Key Features That Make a Website Successful in Today's Digital Age:
Certain key features make every successful website for small businesses in today's digital age. These include: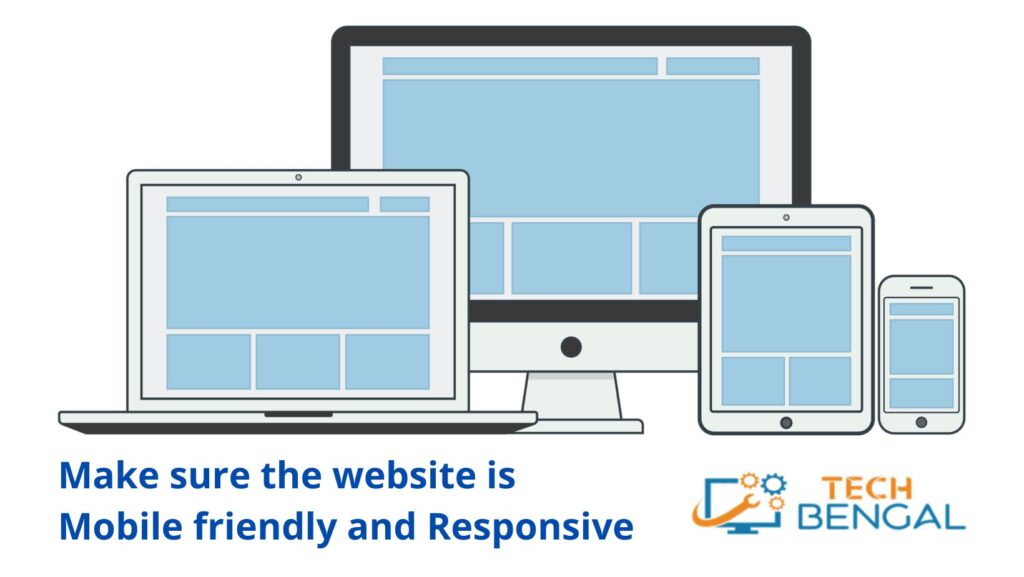 Mobile Responsiveness – Since more people are accessing the internet via their smartphones and tablets, your website must be mobile-responsive. This means that your site will automatically adjust its layout based on the screen size of the device being used.
Easy Navigation – Your website should be easy to navigate, with a clear menu that directs visitors to the most valuable pages.
Fast Loading Speeds – Visitors expect websites to load quickly. If your site takes too long to load, they will leave and go elsewhere.
Engaging Content – Your website should have high-quality, engaging content that is informative and relevant to your target audience.
Social Media Integration – Integrating your social media is an excellent way to increase brand awareness and drive traffic to your website.
Security: For small businesses with a website, ensuring security is paramount in today's digital era. The security of your website not only safeguards your own data but also protects the personal information of your visitors. To achieve this, you may implement various measures such as SSL certificates, firewalls, and routine security updates.
Website Development Cost and How to Hire the Right Website Design Company or Right Web Developer?
When it comes to website development costs, several factors come into play. Custom designs typically cost more than pre-made templates, and the complexity of your website also determines the final cost.
When hiring a website design company or web developer, it's crucial to conduct extensive research. Look for companies or individuals experienced in creating websites for businesses similar to yours. Request references and examples of their work, and get a clear understanding of the pricing and timeline for the project.
Also, read: Why your restaurant needs a restaurant website?
Here are some steps to follow when hiring a website design company or web developer:
Define Your Needs – Define your website's goals and your business needs before looking for a website design company or web developer.
Research Options – Research website design companies or web developers online, looking at their portfolios and reviews.
Request Proposals – Contact different website design companies or web developers and request proposals outlining the scope of work and expectations.
Evaluate Proposals – Evaluate each proposal carefully, considering factors such as pricing, timeline, and scope of work.
Choose a Company – Choose the website design company or web developer that best meets your needs and budget after evaluating all proposals.
At TechBengal, we understand that every business is unique and has its own set of requirements when it comes to website development. That's why we follow a tried-and-tested approach that begins with defining your needs and goals before moving on to research options and request proposals.

Our team of expert developers and designers work tirelessly to create visually stunning websites that are not just aesthetically pleasing, but also user-friendly and easy to navigate. We take great pride in our past work and encourage you to take a look at our extensive portfolio and rave reviews from satisfied clients.

Our proposals are detailed, transparent, and tailored to meet your specific requirements. We understand that pricing and timeline are important factors to consider and ensure that we offer the best value for your money without compromising on quality.

So what are you waiting for? Choose TechBengal as your website design company and let us help you take your business to new heights!
Conclusion:
Designing a winning website for any business is no small task, but by following these steps, you can create a successful website that stands out and drives business growth. Focus on creating a site that is consistent with your branding, easy to navigate, and optimized for search engines. When hiring a website design company or web developer, do your due diligence to find the right fit for your business.
In summary, a website for small businesses is an essential tool for success in today's digital age. It provides a platform for potential customers to learn more about your products or services and make a purchase. Ensuring that your website is informative, easy to navigate, and visually appealing can help you stay competitive in your industry.