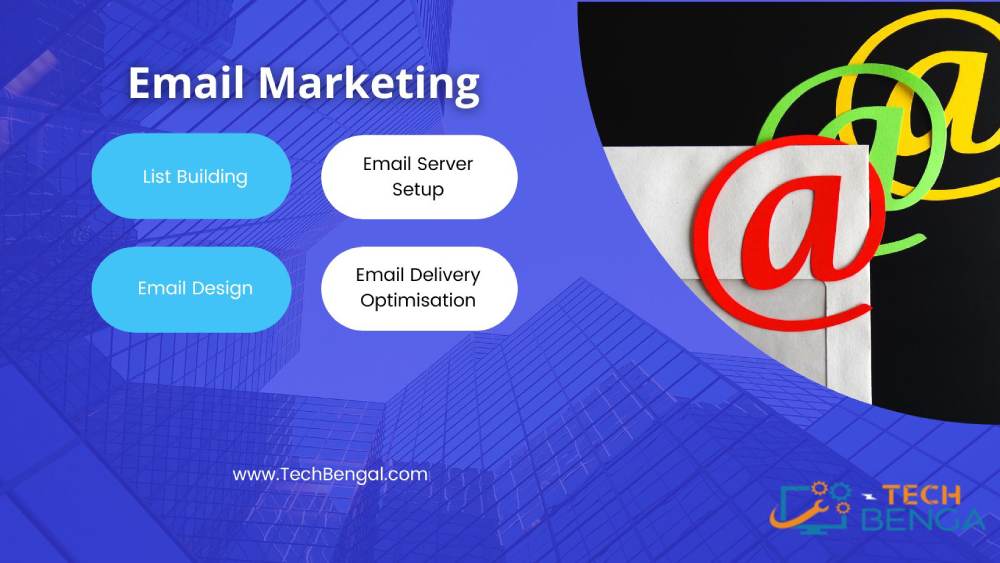 Email marketing is a type of digital marketing that involves sending marketing messages via email to a targeted group of consumers. These messages can be in the form of newsletters, promotional offers, or other types of marketing content, and are typically sent to a company's existing customer base as well as to potential customers who have shown an interest in the business's products or services.
Email marketing can be an effective way for businesses to reach out to their target audience and promote their products or services. It allows businesses to directly communicate with their customers and build relationships with them. This can help to increase customer loyalty and repeat business.
In addition to building relationships with customers, email marketing can also be used to drive traffic to a business's website and increase sales. By including links to a company's website in their marketing emails, businesses can encourage their customers to visit their site and learn more about their products or services. This can help to increase website traffic and ultimately lead to more sales.
Overall, email marketing is a powerful tool that can help businesses to promote their products or services, build relationships with customers, and drive traffic to their websites. By creating engaging and effective marketing emails and targeting them to the right audience, businesses can use email marketing to effectively reach out to their target audience and increase their sales.
Email marketing has a high return on investment (ROI) compared to other forms of digital marketing. According to a study by the Direct Marketing Association, email marketing has an average ROI of $38 for every $1 spent.

Email is the preferred method of communication for most consumers. A study by the Radicati Group found that there are over 4.3 billion email users worldwide, and the average person receives 88 emails per day.

Personalized email marketing is more effective than generic email marketing. A study by Epsilon found that personalized email marketing campaigns have an open rate that is 14% higher and a click-through rate that is 10% higher than generic email marketing campaigns.

The majority of consumers prefer to receive promotional content via email. A study by MarketingSherpa found that 66% of consumers prefer to receive promotional content via email, compared to 17% who prefer social media and 11% who prefer direct mail.

Email marketing is not going away anytime soon. Despite the rise of social media and other forms of digital marketing, email remains a popular and effective way for businesses to reach out to their customers. In fact, a study by ExactTarget found that 78% of consumers still prefer to receive permission-based marketing communications through email.
Our Email Marketing services includes:
Email delivery rate optimisation
Transform your Business with our Proven Email Marketing Services
Email marketing is a proven and effective way to reach customers and grow your business. By sending targeted, personalized emails to potential and existing customers, you can build brand awareness, drive traffic to your website, and increase sales. Our email marketing services can help you design and execute a successful email marketing campaign that meets your business goals and objectives. We can provide support in areas such as list management, email design, content creation, and analysis and reporting. With our expertise and support, you can take your email marketing to the next level and achieve the results you want for your business.
Looking for Email Marketing Services?
Our Marketing Experts are Ready to Help You