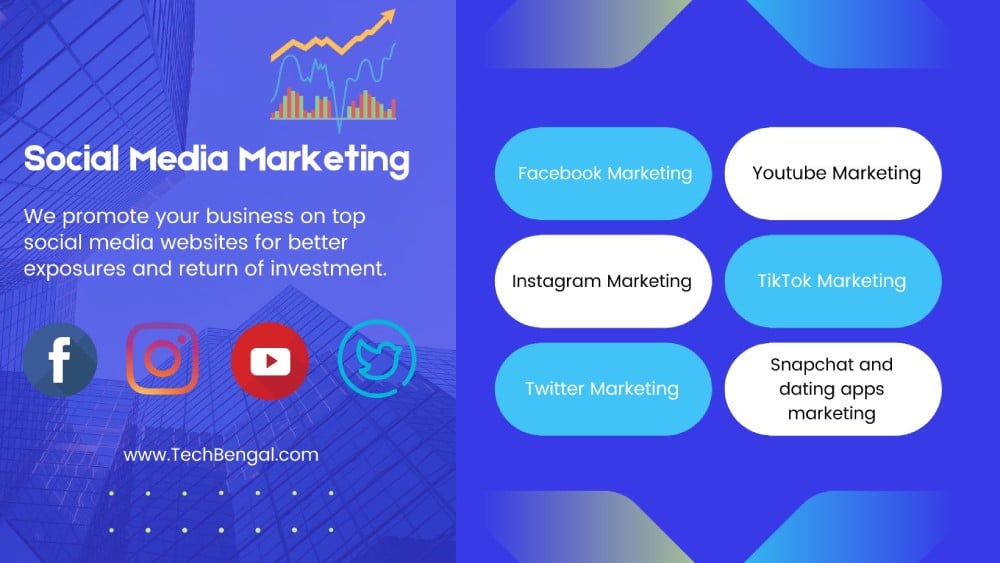 Social media marketing is the process of marketing a product or service through a variety of different social media platforms. It involves creating content that is tailored to a specific audience based on the platform and then sharing and engaging with that content to reach customers, generate leads, and increase brand awareness. Social media marketing can be used to boost the visibility of a brand, facilitate conversations with customers, and drive conversions.
The average return on investment (ROI) for social media marketing is estimated to be anywhere between 2:1 and 12:1.

According to a recent study, Social Media ROI has increased from an average of 8.7% in 2017 to 11.3% in 2020.

92% of marketers agree that social media is critical for the success of their business.

About 95% of all marketers will be using social media for marketing

By 2022, 76% of all Internet users will be using social media.

Over 3.6 billion of those users will be active on mobile devices.
We offer social media marketing for:
SnapChat and other dating apps
Get top notch service from our SMM experts
Our social media marketing experts provide a range of services, including account setup and brand building, content creation and curation, influencer relationships, scheduling, platform and analytics management, online ad campaigns, and more. Our team focuses on creating meaningful conversations with your target audience, developing advocacy and loyalty within your customer base, and driving more business by amplifying your brand's voice and reach. We understand that each business has unique goals and objectives, so we work with you to develop a customized social media marketing strategy that will produce the best possible results.
Looking for Social media marketing?
Our Experts Ready to Help You